I always LOVE playing at The Umstead Hotel and Spa in Cary, NC!  This time, it was for Morgan and Mark's wedding on September 1st (the day before my Birthday).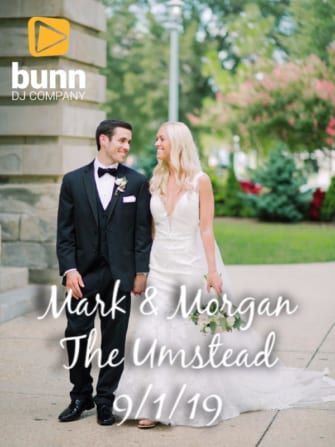 Their ceremony was held earlier in the afternoon on the back lawn of The Umstead with Minister Ed Sansbury and music by Save The Date Music.  Morgan and Mark had lots of things for the 80 guests to do on their few hours break before the wedding reception later in the evening.
When I arrived I was greeted with a "Happy Birthday" from several staff members of The Umstead. Then, I saw a box left for me on my DJ table by baker Ashley Cakes!  Not going to lie, I kinda teared up a little.  My favorite cake that she makes (snickerdoodle) with my logo on top waiting for me!!  OMG!  So, I delicately moved it under my table and set up for the reception (and dreaming of eating that cake later!!).
The cocktail hour was held in the prefunction area outside of the ballroom I was in and The Umstead handled the music.  When the cocktail hour was over, the guests were invited inside the ballroom by planner extraordinaire GINA from A Southern Soiree.  The room looked beautiful with floral arrangements by Tre Bella, as did Morgan with makeup by Ashley Mooney. I can't wait to see more pics from photographer Danielle from Blissmore Photography! I left music playing and went to line the wedding party up with Gina.  I introduced them to "I Gotta Feeling" and Morgan and Mark to the chorus of "Something Just Like This" by Coldplay.  They came in to loud applause and Morgan's Father welcomed everyone.
The soup, salads and entrees came out and I played a mix of jazz standards during dinner.  After dinner we had the toasts and Ashley's Cake cutting to "Sugar" by Maroon 5 that turned into a food fight..LOL!!  After they were cleaned up, they had their first dance to "25 Years" by Dan Rodriguez.  Morgan danced with her Father to "Butterfly Kisses" and Mark and his Mother to "My Wish".  We had an anniversary dance to "L.O.V.E." with the winners at 45 years married.  I opened the floor to everyone with "Brick House" and some 70's then Top 40 that instantly filled it for the next 2 hours.
After dancing hard all night, it was time for the last dance to "Time Of My Life" from Dirty Dancing before a confetti cannon exit from the back patio. Thank you for everything Morgan, Mark, Danielle, Gina, Ashley Cakes and Kayla!
Photos courtesy of Blissmore Photography
---
DJing is more than just showing up and pressing play. It's also more than just knowing how to choose songs and mix them together. Begin a wedding DJ is about creating experiences and atmospheres. That's what our DJing philosophy boils down to. We don't want to just provide the perfect music. We want to create the perfect day. That's why we excel in what we do. And this wedding was a perfect example of that. Working with this awesome couple to create the day they envisioned is something we'll never forget. And it's a service we provide all our Raleigh Weddings again and again.